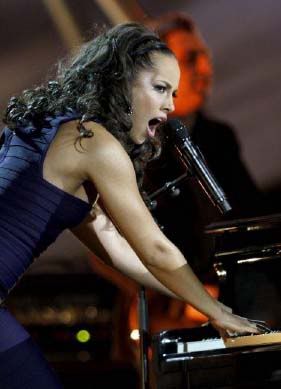 I'm sorry, but is it just me, or does it seem like females have been taking over music. especially with Alicia's recent release of the Element of Freedom, with Janelle's release of her first album, the Ark Android, coming soon (hopefully, although i saw a release date of Dec 2010, and i really don't want to wait a whole year..) , and with Erykah's comback with the return of the Ankh.. I can't think of a single male artist that lives to the creative and imaginative artistry of these three ladies (and these are the only ladies that I can think of at the moment, I'm sure there are more than just these three that are doing big things..)

Janelle Monae, The Ark Android



finallyyyy suite 2 & 3 will be coming out in one, entire album entitled "The Ark Android," a self realisation album. Cindi, the android from the first suite, realizes her gift and calling to lead the androids to freedom. Janelle parallels this to ways that we can all learn what our "own superpowers" are and use these powers to transform our own communities. amazing. This is what music should be about. I just reeealllly hope the release date is sooner than december 2010, maybe the source of where I saw this december 2010 release date made a typo and they really meant January 2010... Actually when I first saw the release date of December 2010 for some reason I thought it was December 2009, and i got reeeallly excited but after doing google searches for about 30 min. and coming up with nothing, i looked at the date again and realized that I really saw December 2010. heart breaking.

Alicia Keys, the Element of Freedom

Honestly, when Alicia Keys came out with her first single before the album dropped, Doesn't Mean A Thing, I wasn't really feelin it. Doesn't Mean a thing had a pop-ish, main stream sound to it that I just wasn't really drawn to. however... after listening through her album I realized that Doesn't Mean a Thing was only the tip of an iceberg of what her album had to offer. She uses the universal theme of love to convey a message of freedom and self-love, she begins with the quote "And the Day come that the risk it took to remain tightly closed in a bud, was more painful than the risk it took to bloom, this is the Element of Freedom." Some favorites Love is Blind, Empire State of Mind II, Try Sleeping with a Broken Heart (the beat and instrumentals are amazing in this one) and of course her collaboration with Beyonce in Put it in a Love Song.



Erykah Badu: Amerykah
the sequel to Erykah Badu's 2006 New Amerykah Part One: 4th World War could be coming in 2010. New Amerykah Part Two: Return Of The Ankh. below Erykah Badu shares a little bit about the concept (source)



Erykah Badu Levitates from Creative Control on Vimeo.
anddd look who's back! =)

Corinne Bailey Rae "I'd Do It All Again"


Corinne Bailey Rae MySpace Music Videos
2010 will be a good year. happy holidays <3